PLEASE NOTE I AM NO LONGER DEVELOPING BDLCAM.
I am leaving the site up for existing users or anyone wanting to still use it, but there will be no further development or support of the product. The decision to stop is driven by other priorities, but also the fact that PTZ cameras (including standalone webbased cameras) have become more and more affordanble.
Latest News - How to get BDLCAM working with Windows 7 (Nov 15th 2009)
On investigation there is a dependency on a Directx9 element that is not inclueded with the Diectx11 that comes with Windows 7. There is information available on the Microsoft site here and the answer for me was to install the DirectX End-User Runtime Web Installer mentioned at the bottom or the article.
Update now available to the internal streaming to improve reliability and support more browsers (Nokia Cellphones, Chrome, Firefox etc). Also includes bugfix where password box wouldn't appear on admin page when using Chrome Download here
Built in streaming video support - Visit test site (Not always online)
Motion Detection (JPG stills saved on motion)
Blackout/Privacy Mode - Block video during certain hours
Joystick Support
Support for Prolite LED Scrolling Screen
Added support for PelcoD cameras
Added support for HACS ESS audio switch
Option to restart BDLCAM everyday at a set time to keep everything running smoothly
Option to send macro from local command window
Introduction
BDLCAM allows you to control various video conferencing cameras and other USB/serial devices either locally or via the web. The current public version (3.4.0) does not stream the video, but there several programs available that take care of that. All the cameras/devices supported are controlled via serial/rs232, so you will need a computer with an available serial port and the required cable to connect from the computer to the camera. A USB to serial adapter can also be used where no serial ports are available. In the supported devices section I have included pinouts for anyone wanting to make their own cable, alternatively ebay is a good source for these cables.
Various cameras (such as Picturetel, Sony, Canon etc) are supported, see Supported Devices for more details. Other devices such as video switchers and other devices are also supported
Features
Built in Web Server - Use BDLCAM as a simple Web Server
Local Control - Control the camera from the local control panel in addition to the Web controls
Goto Preset - Return the camera to a preset position after a configurable period of inactivity
Focus Saver - After a configurable period of time the focus can be set to manual, when the next command is received the focus is set back to auto
Limit Access - Allow only one person at a time to control the camera for a configurable period of time
Basic Security - Restrict access to the web based camera control using username and password
System Tray Option - Allows program to me minimized to the system tray
Admin Function - Ability to restrict defined commands from general users/viewers
Advanced Features (Documentation still be written)
Screenshots of Server Program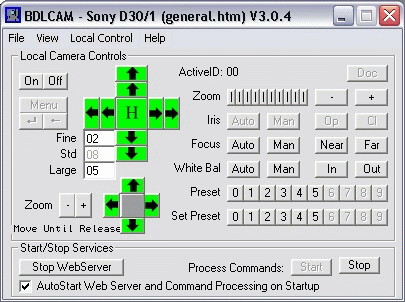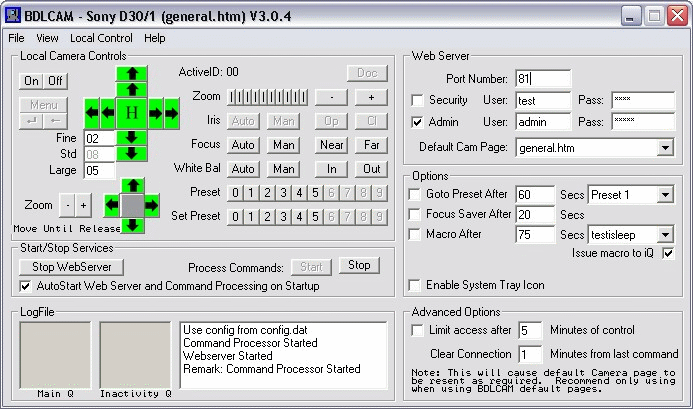 Screenshot of Web Control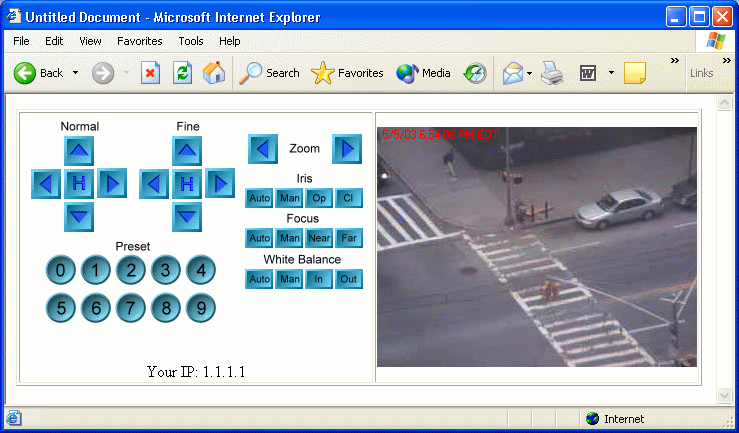 There are sample html pages for each camera type, but you can create you own without any problems.
| | |
| --- | --- |
| If you find BDLCAM useful and would like to make a donation, please click the link. Any donations I receive will be used to enhance the program still further and increase the number of cameras supported. | |
Program by: Brian Langley (2003) email: brian@bdlhome.com